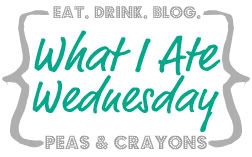 This is my first EVER WIAW! Yes, I know that this is more of a What I Ate in the last couple weeks or so buuuuut oh well ... I'm still a beginner ;) (Thanks Jenn for helping me out with the whole backlink thing!!)
These past few months for me have been unbelievably crazy (in the best way). The saying "when it rains, it pours" has definitly had truth in my life. So what has made my life crazy in a good way?
Work is for sure a great part in my life. I work with kids, doing summer camp like activities, and I love every minute of it. My workplace is awesome; it's well run, the people are fun/friendly, and the job itself doesn't feel like work. PLUS it's a semi active job where I am on my feet allll day so I feel like my arms are getting a little stronger from working there.
Family is another part that is making me happy. My mothers day was so awesome! My mom and I went downtown (in matching maxi dresses) and did the things we love most; walking, talking, and starbucksing (yes, it's a verb!). The matching maxi dresses, although rather embarrassing, made the day even better. We actually got told we look more like friends than mother and daughter, which made my moms day I think.
School is well ... stressful. Oh well, less than a month to go and I will be graduated!
And for blogging, even though this website has been getting a little [to no] attention, I've actually been blogging my face off. I entered this blogging competition for my local mall, and they chose me as a finalist (1 of 5), and from there I needed the most likes to win, and guess what ... I got the most likes :D So I am now the offical teen blogger for
Coquitlam Centre
!
Heres a list of all of my blogs in case you want to check them out ...
(the likes on their website are glitchy right now .. but I ended up when getting over 8300!)
Week 1
- Miley Cyrus look-alike
Week 2
- healthy food court options
Week 4
- top 5 fashion items for sun protection
Bonus
- what my experiance was like
Now on to my eats ... this is a mash up of what I have eaten in the past couple of weeks, I know a lot of it will look the same, but hey, what can I say? I'm a creature of habit ;)
That would be a grande iced coffee with a little sweetner
Sweet tater, roasted red onions w brussel sprouts, and a kale/turkey mix
Yummeh slow cooker chili sprinkled with paprika
My breakfast today: bloobs w vanilla greek yogurt and cocoa
I KNOW it looks weird with that much cocoa but the bloobs sweeten it up so don't knock it till you try it
Turkey, spinach, sweet tata, spaghetti squash, salsa, brussel sprouts and red onions.
Just a salad with field mix and tomatoes w balsamic + EVOO
AHH soo good I get this meal EVERY TIME I go to Browns


The making of the healthy truffles
"Healthy" truffles
Indivually wrapped = NEVER AGAIN
Cocoa I love you sooo
Mothers day dinner: salmond with veges deeeelish
PB w sea salt mmmm
Greek yogurt with flax and maple extract mixed then frozen for an hour ... then topped with frozen nana
Brussel sprouts and onions, chili, roasted kale, sweet tata, and spaghetti squash
Roasted veges with blasamic/olive oil dressing
What can we say, we love our starbucks ;)
Grapes and Strawberries <3